On Saturday, October 29, Fort Mac LRA had the honor of hosting an Employment and Career Forum organized and produced by Urban League of Greater Atlanta, with support from NPU S, Atlanta Metropolitan State College, Atlanta Technical College, Atlanta Workforce Development Agency, Community Church, Community Empowerment Development Corporation, City Councilmember Joyce Sheperd, and City Councilmember Cleta Winslow.
Around 200 people packed our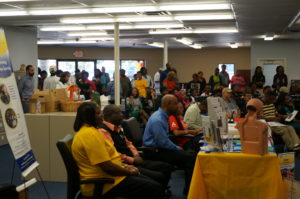 offices for sessions on Employment Strategies and Job Opportunities, Hot Careers and Training Opportunities, and Opportunities in the Film Industry. In addition to representatives of the organizations listed above, attendees had the chance to hear from Work Source Atlanta, The Center for Working Families, and employers like FedEx and Satair USA.
Given the amazing turnout and enthusiastic participation we saw in this Employment and Career Forum, we are looking forward to hosting another session soon. Please stay tuned for more details!