Thanks to all who came out to our community input session at Fort Mac LRA on Wednesday September 27. If you weren't able to join the session, we still want to hear from you! Atlanta City Design Studio will host an activity space for community members during its public hours. Beginning on Thursday, September 28th through Friday, October 6th, 2017, the public is welcome to drop by the Studio at 2311 Cascade Rd SW, Atlanta, GA 30311 to share their input. The Studio is closed Sundays and Mondays, open 10a-7p Tuesday & Thursday, 10a-5p Wednesday & Friday, and 10a-2p Saturday.
Once this round of community input has wrapped up, the development team will utilize all input to inform a planning and strategy session in early October. Copies of the meeting notes and minutes will be digitally disseminated and available for pickup at the Fort Mac LRA office as well as the Atlanta City Design Studio following the strategy session.
Next, the development team will introduce the draft master plan, including input from this round of engagement, in the coming weeks. The date and time is TBD.
For additional information about the upcoming meeting or opportunities to participate, please contact Pete Hayley, Director of Program Management, at (404) 477-6265 or via email at phayley@fortmaclra.com.
---
Our first meeting laid a fantastic foundation of community input. We are especially grateful to Tyler Perry Studios for catering and Council member Joyce Sheperd for sharing all of her knowledge about our site and its potential. Macauley Investments and Contente Consulting led our friends and neighbors through three exercises designed to gather feedback that will guide master planners as they work.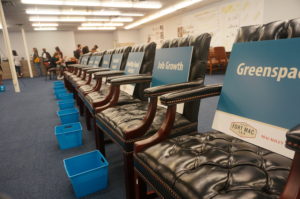 Station #1: Priority Ball in the Bucket
To best identify the top priority goals, we asked "What 2 Goals are your Priority?" Participants had the opportunity to toss their balls in the bucket that corresponds with their top 2 priorities. Options included: Healthy Food Access, Job Growth, Greenspace, Neighborhood Services, Activities for Youth/Seniors, Medical/Health Services, Connectivity, Education, Workforce Training, Mixed Income Housing.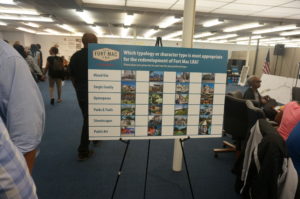 Station #2: Visual Preference Survey
The visual preference survey was an opportunity to identify building heights and characters that are appropriate or inappropriate for the site in response to the new density that the site can now support. A 24×36 board showcased varying uses that participants selected by placing a green dot next to their preference.
Station #3: Site Map
A survey map of the site illustrated all areas to be considered for development, site constraints and structures that are not in play. Participants were given comment sheets and post-it notes to provide comments on the site or ask questions that can be used to better inform the development process.