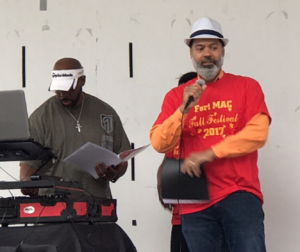 The 5th Annual Fort Mac Fall Festival entertained members of the community on Saturday, Oct. 14, 2017. Hosted by Council Member Joyce Sheperd and the Fort Mac LRA Community Engagement Subcommittee, the Fall Festival was a great success thanks to our many volunteers; our wonderful sponsors, East Point, Fulton County, WellStar, and Red Rock Global, and our partners who helped create an atmosphere of fun and excitement for all.
Once again, the Fall Festival offered attendees the opportunity to take half-hour bus tours of the property throughout the
day. Council Member Joyce Sheperd hosted one of the informative tours, which can be seen here.
Guests were treated to an array of fun and entertainment, including a haunted house, costume contest, painting with Artlanta, prizes from Tyler Perry Studios, and tasty food truck treats.  Guests were entertained with a number of games and activities, as well as live performances from local artists as well.
The Fall Festival also offered attendees the opportunity to get career advice from CareerWise and small business consultations from Invest Atlanta.