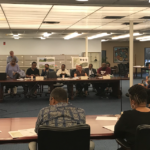 We are tremendously grateful for the active involvement and overwhelming show of support the community demonstrated at the October Community Engagement Subcommittee (CES) meeting, tour, and vote. We recognize that this support reflects the TRUST that has been placed upon us as the Authority, and we do not take that lightly. We will continue to earn that trust in the months and years ahead as your support enables the momentum and progress to build.
Our meeting kicked off with a tour of one of Housing Tonight's transitional housing units located in College Park, after which attendees returned to the Authority's office to discuss and vote on current opportunities. Members of CES had no objections, and were incredibly supportive of these next steps in the redevelopment. We are grateful to our CES members for voting unanimously in favor of:
Rezoning Fort Mac LRA property to SPI-2
Hardee Avenue LLC Supportive Housing proposal
Housing Tonight Inc. Transitional Housing proposal
We look forward to continuing to work with CES to weigh in on and work with us on planning and implementation, voicing concerns where they arise and showing encouragement for the opportunities about which they are excited, ensuring the community remains an integral part of the process.
We encourage the community to join us for these monthly CES meetings, and follow along on social media on Facebook, Twitter, Linked In, and Instagram.