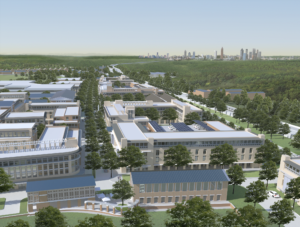 As redevelopment at Fort Mac continues to build momentum, our local media has begun to take notice. See what publications such as the Atlanta Business Chronicle, Saporta Report, and Home Rule News have had to say over the last few weeks:
As we head into 2019 we are at the cusp of a number of significant announcements.
Rezoning
The community has been incredibly supportive of our efforts to rezone Fort Mac as Special Public Interest 2 (SPI-2) District to more effectively support our redevelopment plans, and once our DRI study is complete, we will seek votes from the Zoning Review Board and the Atlanta City Council.
Housing
We're making great strides on plans to fulfill our HUD commitment on housing – including presenting affordable townhomes for rent, along with supportive and transitional housing.
Jobs
The promise of new jobs and training is closer than ever with the vote of approval by the Fulton County Board of Commissioners for the Fort Mac Jobs and Career Center, the prospective sale of current buildings at Fort Mac that would bring nearly 350 high-paying jobs; and a multi-gigabit fiber network currently under construction with the support of Invest Atlanta.
Public Art
And we are so pleased to have such interest in and support of the arts community and public art through ARTlanta and others, including our newly-formed Public Arts Advisory Council.
We are so grateful to Councilmember Joyce Sheperd, the Community Engagement Subcommittee, our local NPUs, and the hundreds of others who participated in the input sessions that are helping shape the vision of Fort Mac and brought us to this point in the re-zoning process.
We are at a critical juncture in this one-of-a-kind redevelopment; get ready – there is so much more to come!