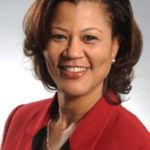 Board Member
404-546-3032
cchubb@atlantaga.gov
Carmen Chubb holds the position of Chief of Staff to the Honorable Keisha Lance Bottoms, Mayor of the City of Atlanta. As Chief of Staff, she serves as one of the highest-ranking advisors to the Mayor, overseeing key City functions, top personnel, policy and legislative matters.
Raised in Atlanta, Georgia she attended local elementary and secondary schools and furthered her education by attending and graduating from the University of Georgia.
Carmen Chubb attended the Mortgage Bankers Associations' School of Mortgage Banking, where she earned the Accredited Mortgage Professional designation, in addition to participating in the Executive Development Program at the University of Notre Dame and the Executive Education Program at the John F. Kennedy School of Government at Harvard University. She is a member of the 2016 class of Leadership Cobb and is currently pursuing her Executive MBA at Kennesaw State University.
Prior to her appointment by Mayor Bottoms, Carmen Chubb served as Deputy Commissioner for Housing at the Georgia Department of Community Affairs, where she served for more than 25 years. She joined the Georgia Housing and Finance Authority (GHFA) in 1990 as an Accounting Manager, before the agency merged with the Department of Community Affairs in 1996.
During her tenure with the State, Carmen Chubb led all statewide programs and resources for affordable housing. The Housing Group included 250 professional staff members, with more than $275 million in program resources, and a $30 million operating budget.
Under her leadership, the State maintained a AAA bond rating from Standard & Poor's on its housing bonds and implemented a successful legislative campaign to increase the agency's bond issuance capacity. Carmen Chubb received the Lifetime Achievement Award for leadership in affordable housing from Smith's Research and Gradings. She is an alumna of the State of Georgia's Executive Leadership Program.
Carmen Chubb's exemplary career in public service brings a strong track record of leadership to Atlanta's City Hall. Her housing insight and governmental expertise offer the Administration a wealth of knowledge while working towards the vision of One Atlanta; a more affordable, resilient, and equitable city.