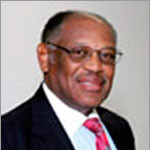 Board Chair
770-969-4600
ward@piainvest.com
Executive Assistant: Mattie Williams
mattie@plainvest.com
Felker W. Ward, Jr. (Felker), is a principal in the Investment Advisory Firm of Pinnacle Investment Advisors, LLC. After graduating from Tuskegee Institute, he was commissioned as a 2nd Lieutenant in the U.S. Army, and served 20 years on active duty. He spent most of his career as a pilot, Logistics Officer, and Public Affairs Officer. He flew numerous helicopter combat missions in Viet Nam, and was awarded the Vietnamese Cross of Gallantry with Bronze Star for his war service.
He retired from the Army in 1974, in the rank of Lieutenant Colonel. Upon retiring from the Army, Felker embarked on his second career – as a lawyer. He practiced law for 15 years – engaged principally in business and finance practice. In 1988, he launched a new venture – providing investment advisory services to institutional investors – pension funds, endowments and the like.
Since his retirement from the Army, he has achieved many honors and awards, including the Emory Medal – the highest achievement award given by the Emory University Alumni Association. He has also been inducted in the Georgia State University Business Hall of Fame. He has received the Emory University Wesley Woods Heroes, Saints and Legends Award, and the award of Honorary Doctorate of Laws Degree from Tuskegee University. He is currently the Chairman of the Ft. McPherson Local Redevelopment Implementing Authority. He is a successful businessman, and currently owns an interest in several companies.
Felker serves on several corporate and not-for-profit boards, including the Morehouse School of Medicine, Georgia Research Alliance, Tuskegee University Board of Trustees, Georgia Cancer Coalition, and the Atlanta Falcons Football Team. In addition, he is a member of the 100 Black Men of Atlanta, and recently completed his year of serving as President of the Rotary Club of Atlanta – the largest Rotary Club in the southeast, and one of the largest in the world. He is also an emeritis Trustee of Emory University, and he serves as Civilian Aide Emeritus to the Secretary of the Army.