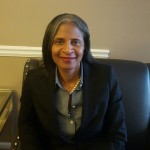 Executive Assistant
404-477-6767
stennyson@fortmaclra.com
Sandra Tennyson is Executive Assistant to the Executive Director of Fort Mac LRA. She joined the Authority in April 2008. Some of her responsibilities include providing direct support to the executive director and providing confidential executive level coordinating support to Fort Mac LRA's Board of Directors. She maintains the calendar for the executive director, prepares agendas, minutes and confidential material for board books. She manages and prioritizes multiple tasks, answers the phone, and arranges travel plans for the all managerial staff and board members.
Sandra earned her Bachelor of Arts from City College of New York and has earned several graduate credits from Georgia State University.