The engagement and involvement of our surrounding communities is a cornerstone in the redevelopment of Fort McPherson. The success of the redevelopment depends on community input and support. We welcome and encourage all members of the community to get involved through the Livable Centers Initiative and the Community Engagement Subcommittee.
---
Community Engagement Subcommittee
Fort Mac LRA is part of a network made up of its 17 neighboring communities in Atlanta and East Point. Input from these communities is very important to us. Representatives from each of these communities and neighborhoods serve on the Community Engagement Subcommittee (CES), which brings the concerns and interests of the community to the redevelopment process. As the direct link between the community and Fort Mac LRA, CES has identified four areas of focus:
Safety, Security & Well-Being
Economic Development & Entrepreneurship
Real Estate and Community Need
Communications & Future Dialogue
To view a summary of the CES Action Plan, please view the following document:
Oakland City/Lakewood Livable Centers Initiative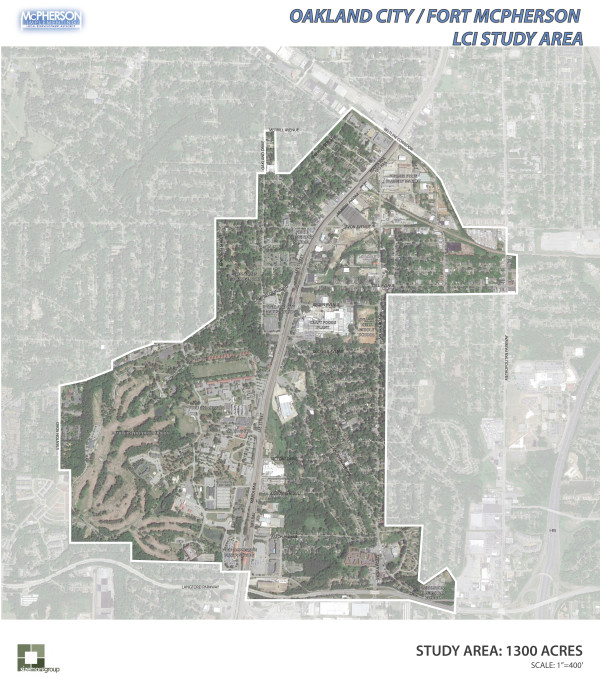 The Livable Centers Initiative (LCI) is a program that awards grants on a
competitive basis to local governments and nonprofit organizations to prepare and implement plans for enhancing existing centers consistent with regional development policies. The LCI also provides transportation infrastructure funding for projects identified in the LCI plans.
The Oakland City/Fort McPherson Livable Centers Initiative (LCI) study update and master plan is the result of extensive community outreach, market research, and other information gathering activities conducted by planners and consultants. It is currently under review by city agencies, on its path to approval by the Atlanta City Council.
OaklandCity-FortMacLCI_FINAL Report 4-1-16_Part1
OaklandCity-FortMacLCI_FINAL Report 4-1-16_Part2
OaklandCity-FortMacLCI_FINAL Report 4-1-16_Part3
---
CES meets monthly and all are welcome to attend. Please see our calendar for the next CES meeting. To find out who your CES Representative is, please refer to the table below:
CES Representatives
Council member Joyce Sheperd
Chairwoman, Community Engagement Subcommittee
404-330-6053
jmsheperd@atlantaga.gov
ATLANTA
CITY OF EAST POINT